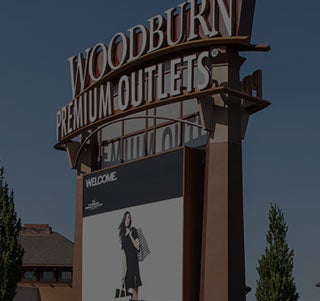 ABOUT WOODBURN PREMIUM OUTLETS®
1001 Arney Rd, Woodburn, OR 97071
Center Information
Woodburn Premium Outlets is the top destination for tax-free outlet shopping. Conveniently located off Interstate 5 between Portland and Salem, Woodburn Premium Outlets features 110 stores including Adidas, Coach, Columbia Sportswear, kate spade new york, Marc Jacobs, Michael Kors, Nike, The North Face, Tory Burch and more all at savings up to 65% every day. Designer name brands, skylight-covered walkways, and beautiful Northwest architecture and landscaping make this a unique and fun shopping experience year round. We hope that you will visit us soon.
FEATURED STORES
Directions & Transportation
From Portland
Take I-5 South to Exit 271. Turn right at the light, onto Hwy. 214, then immediate right onto Arney Road. Stay right and continue on Arney Road.

From Salem
Take I-5 North to Exit 271. Turn left at the light onto Hwy 214 and cross over I-5, then immediate right onto Arney Road. Stay right and continue on Arney Road.

Rent A Car
Special discount from Dollar Rent A Car, valid on vehicle rental from the downtown Portland or Portland Airport locations.

Bus Directions From Downtown Portland
Cost of trip is approximately $15 one-way on weekdays and $17 one-way on weekends. Round trip is $29.50 on weekdays and $34 on weekends. All schedules are subject to change. Please visit www.greyhound.com or call (800) 231-2222, and Woodburn Transit at (503) 982-5233 for further information and details. Woodburn Transit only runs Monday-Friday. Greyhound trips must be reserved at least 2 hours in advance. Please plan plenty of time for travel and shopping.

Greyhound station, located at:
550 NW 6th Ave (between Hoyt & Glisan Streets)
Portland, OR 97209
(503) 243-2333 www.greyhound.com

All-Day Trip
Depart: Greyhound station at 6:30am for Woodburn, or Arrive Woodburn Greyhound station at 7:15am
Locations: 479 N. Front St., Woodburn, OR 97071
Walk to Woodburn Transit Station(toward Grant St. SW, approximately 3 blocks) at 1st and Garfield
First bus arrives at 9:00am
Get off at stop #10, Woodburn Premium Outlets
Return: Take 1:37pm Woodburn Transit back (departs from stop in front of adidas store). Arrive at Transit Center at 2:30 pm. Walk back to Greyhound station.

Or

Call AAA Taxi at (503) 951-0123 for ride back to Woodburn Greyhound Station no later than 3:00 pm to catch final 3:50pm bus return bus to Portland. Woodburn to Portland Greyhound departs @ 3:35 pm and arrives back at Portland Greyhound station at 4:20 pm.

Amtrak Cascades Bus
Cost of trip is $9.50 one-way. Amtrak Cascades Bus runs daily, including weekends. All schedules are subject to change. Please visit www.amtrakcascades.com or call 1-800-872-7245 for further information and to purchase a ticket.
Union Station located at:
800 NW Sixth Avenue
Portland, OR 97209



AAA Taxi
Special discounts to travelers from Portland and Salem to Woodburn Premium Outlets - just mention this website. AAA Taxi can be reached at (503) 951-0123.