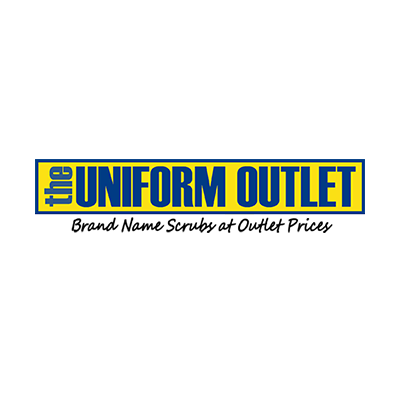 The Uniform Outlet
DEALS VIP OFFER
Your local source for scrubs and medical uniforms. We offer a large selection of brand name scrubs including: Sanibel, Gem, Cherokee, Barco, Urbane, Peaches, Landau, Wink, Koi, and many more. When you shop at The Uniform Outlet, you are guaranteed low prices without sacrificing the quality or range of style. We carry a wide variety of products catered to meet the needs of medical professionals including the popular Landau Comfort shoes, stethoscopes and surgical caps just to name a few.
CURBSIDE PICKUP AVAILABLE
Enter Pleasant Prairie Premium Outlets at North driveway near Calvin Klein. Proceed to storefront, idle at curb or park in "Retail To Go" area in center of each parking area outside retailer.
SPECIAL HOURS
12/09/2021: 10AM - 9PM (Holiday Hours)
12/10/2021: 10AM - 9PM (Holiday Hours)
12/11/2021: 10AM - 9PM (Holiday Hours)
12/12/2021: 10AM - 6PM (Holiday Hours)
12/13/2021: 10AM - 9PM (Holiday Hours)
12/14/2021: 10AM - 9PM (Holiday Hours)
12/15/2021: 10AM - 9PM (Holiday Hours)
12/16/2021: 10AM - 9PM (Holiday Hours)
12/17/2021: 10AM - 9PM (Holiday Hours)
12/18/2021: 9AM - 9PM (Holiday Hours)
12/19/2021: 9AM - 8PM (Holiday Hours)
12/20/2021: 9AM - 9PM (Holiday Hours)
12/21/2021: 9AM - 9PM (Holiday Hours)
12/22/2021: 9AM - 9PM (Holiday Hours)
REGULAR STORE HOURS
Monday to Saturday 10AM - 9PM |
Sunday 10AM - 6PM |

BEST ENTRANCE
South Parking Plaza
LOCATION IN OUTLET
Located next to Sunglass Hut and Ghirardelli Chocolate Factory
BRANDS AT THE UNIFORM OUTLET
PRODUCTS CARRIED AT THE UNIFORM OUTLET
More From The Uniform Outlet