Shop, Support & Save from October 1-31, donate $10 to Susan G. Komen and get your digital Discount Pass
DONATE NOW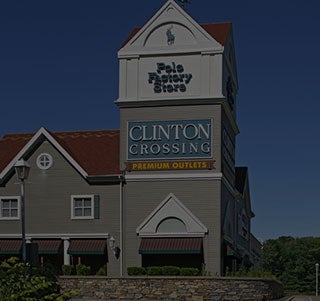 ABOUT CLINTON PREMIUM OUTLETS®
20 Killingworth Turnpike, Clinton, CT 06413
Center Information
Clinton Premium Outlets®, located along the Connecticut Shoreline, is a charming outdoor village center conveniently located on I-95 en route to Boston or New York. Enjoy savings of 25% to 65% off every day prices featuring more than 70 designer and name brand outlet stores.
FEATURED STORES
Directions & Transportation
Clinton Premium Outlets is located off I-95 at Exit 63 (on Route 81)

From New Haven/Fairfield/New York: Take I-95 north to Exit 63

From Hartford/Springfield: Take I-91 south to Exit 22S (Route 9 South) to Exit 9 (Route 81 South). Turn right onto 81 South and proceed 14 miles. Center is on the right.

From Mystic/Rhode Island/Boston: Take I-95 south to Exit 63.

Zipcar
Please visit zipcar.com for information.


9 Town Transit - Shoreline Shuttle
Please visit estuarytransit.org or call directly at (860) 510-0429 for information.
Daily weekday (Monday-Friday) local bus service and limited Saturday service to center with stops at shoreline points from Madison to Old Saybrook.

Metro-North Railroad train service available from Grand Central (NYC) to New Haven; transfer to Shore Line East train service to Old Saybrook (weekdays and limited Saturday service).
(800) METRO-INFO (Metro North Railroad Passengers)
(800) ALL-RIDE (Shore Line East Passengers)

Taxi Service available from New Haven to the center.
(800) METRO-INFO (Metro North Railroad Passengers)
(203) 777-7777 or (203) 333-3333 (Metro Taxi)


9 Town Transit - Shoreline Shuttle
Weekdays and limited Saturday service from New Haven to shoreline Train Stations.
Take Shoreline Shuttle or taxi to Clinton Premium Outlets.




Amenities
Located next to the Management Office in Suite 225

9Town Transit, located outside Carter's and Coach entrance.

Management Hallway and additional locations.

The Management Office, located in Suite 225, is open Monday - Friday 8:30AM-5:00PM.

General Information, Wheelchair Rental, Lost & Found

Simon Giftcards are available for purchase, Monday, Tuesday, Wednesday, Thursday, Friday 9:00AM-5:00PM or by appointment.

Giftcards will be temporarily unavailable on:

Monday, October 25, from 3PM-5PM

Tuesday, October 26, from 9AM-12PM

Wednesday, October 27, from 9AM-12PM

Friday, October 29, from 3PM-5PM

Mobile Charging Station Located outside Under Armour at the lower campus.