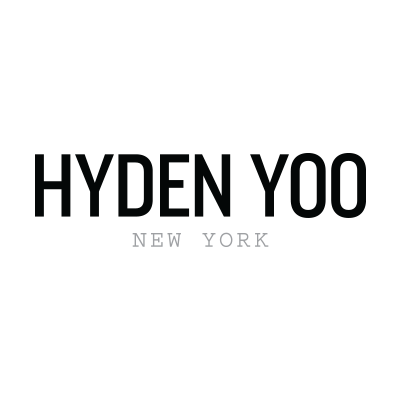 HYDEN YOO
HYDEN YOO IS THE CREATIVE HEAD OF HIS NAMESAKE LABEL SINCE 2008. THE HYDEN YOO BRAND IS KNOWN FOR SUBTLE DETAILING, CLEAN LINES, WITH SPECIAL ATTENTION TO FIT AND FABRICS AT ACCESSIBLE PRICE-POINTS.

BORN IN SEOUL, KOREA, AND RAISED IN HOUSTON, TEXAS, HYDEN YOO GRADUATED FROM THE UNIVERSITY OF CHICAGO WITH A DEGREE IN BIOLOGY WITH THE INTENT ON BECOMING A DOCTOR. HIS CAREER TRACK ENCOMPASSED A VARIETY OF JOBS INCLUDING TEACHING, FITNESS TRAINING, AND RETAIL SALES, BUT EVENTUALLY ENDING UP AS A MANAGEMENT CONSULTANT. UNSATISFIED WITH HIS JOB, HYDEN WAS SELECTED AS A CONTESTANT ON A REALITY GAME SHOW CALLED FEAR FACTOR, AND WON.

THE PROCEEDS FROM HIS WINNINGS ALLOWED HYDEN TO PURSUE HIS TRUE PASSION WHICH WAS TO EMERSE HIMSELF IN ALL THINGS FASHION. HE MOVED TO NEW YORK CITY TO START HIS OWN SPORTSWEAR CLOTHING BRAND, AND FOUND HIS NICHE IN THE VERSATILITY OF MENSWEAR, ESPECIALLY IN TRANSITIONING DAY-TO-NIGHT WEAR FOR MEN. HYDEN'S FIRST ORDER OF BUSINESS WAS TO SLIM UP A MEN'S DRESS SHIRT, AND CUT DOWN THE LENGTH A BIT, SO THAT IT CAN BE WORN EITHER TUCKED IN OR UNTUCKED. HIS DESIGN PHILOSOPHY WAS TO MAKE DRESS SHIRTS VERSITILE, TRANSFORMING IT FROM FORMAL OFFICEWEAR TO CASUAL EVENINGWEAR, MODIFYING CLASSIC STYLES WITH MODERN SILHOUETTES.

THE HYDEN YOO SHIRT COLLECTION TOOK OFF AFTER PROMINENT SPECIALTY RETAILERS SOLD OUT IN A MERE FEW WEEKS. SINCE THEN, MAJOR RETAILERS ACROSS THE U.S. AND IN ASIA CARRY THE HYDEN YOO BRAND WHICH NOW INCLUDES KNITS, JACKETS, PANTS, AND OTHER CASUAL DESIGNS. HYDEN YOO ALSO STARTED STANDARD ISSUE NYC, A STREETWEAR BRAND, IN 2010. HIS CLOTHING LINES ARE NOW PROMINENT IN MAJOR RETAIL STORES SUCH AS LORD & TAYLOR, SAKS, NORDSTROM, AS WELL AS HIS OWN RETAIL SHOPS IN VENICE AND PORTLAND.
BEST ENTRANCE
South Entrance by Starbucks
LOCATION IN OUTLET
126D