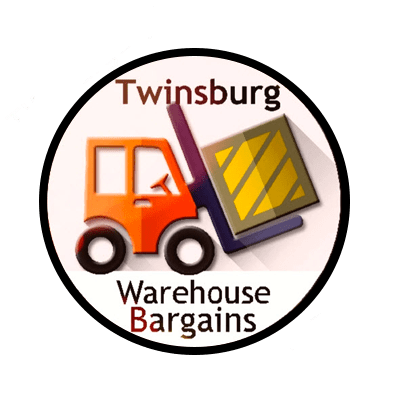 TW Bargains Outlet
DEALS VIP OFFER
Since being established in 2016, Twinsburg Warehouse Bargains has been known for an unparalleled commitment to customer satisfaction in the Greater Portage/ Summit/ Cuyahoga/ Geauga County areas. It's this standard of excellence that has provided the impetus for us to grow into the business we are today.

We're committed to not only providing quality products and services, but going above and beyond to ensure our customers are completely satisfied. We believe that the customer always comes first - and that means exceptional products and exceptional services.

New Items, Shelf Pulls, Over stocks, Returns, all items are inspected to insure all parts are included or are noted if not. We also inspect to make sure they work also. If there is any damage we will take photos to show you. Most everything we sell is in prestige condition and we sell at a very low price giving you a great deal.
SPECIAL HOURS
12/07/2021: 10AM - 9PM (Holiday Hours)
12/08/2021: 10AM - 9PM (Holiday Hours)
12/09/2021: 10AM - 9PM (Holiday Hours)
12/13/2021: 10AM - 9PM (Holiday Hours)
12/14/2021: 10AM - 9PM (Holiday Hours)
12/15/2021: 10AM - 9PM (Holiday Hours)
12/16/2021: 10AM - 9PM (Holiday Hours)
12/20/2021: 10AM - 9PM (Holiday Hours)
REGULAR STORE HOURS
Monday to Saturday 10AM - 9PM |
Sunday 11AM - 7PM |

More From TW Bargains Outlet