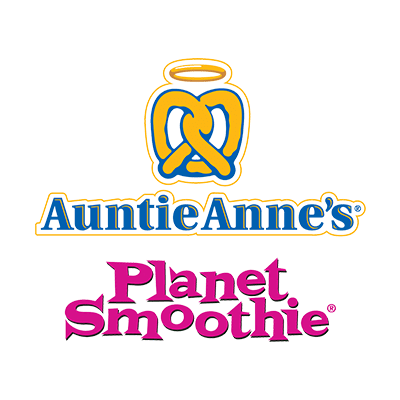 Auntie Anne's/Planet Smoothie
Auntie Anne's
Salty, savory, sweet or tangy, Auntie Anne's pretzels are hand-rolled, baked to a golden brown, and never kept longer than 30 minutes. It's only natural to want to try one! And nothing goes better with your pretzel than one of our dips and Old Fashioned Lemonade. Auntie Anne's guarantees you'll love your pretzel or they will replace it with one that you do. Yes, that may seem a little gutsy, but when you've rolled, twisted and baked over two billion pretzels (that's 2,000,000,000) there's a pretty good track record. Check out www.auntieannes.com for additional information. Planet Smoothie
Planet Smoothie offers the best tasting smoothie on the planet!® Each one is blended fresh to order with real fruit. Add a Blast supplement or one of our two varieties of Planet Pro® protein, whey protein or pea protein, for an extra boost! We offer a variety of smoothies to fit your lifestyle such as Planet Lite™ smoothies, 7 smoothies under 300 calories, or Superfood smoothies blended with whole food ingredients. Stop in for breakfast, lunch or a post-workout snack! Check out www.planetsmoothie.com for additional information.